Forums : Adventure : Hard core wheeling (3746 Views)
User Has Been Deleted
December 11, 2004
LOL, no, thats because it's a Phord!!...............j/k
January 7, 2005
i have a chevy now we wer rock crawling my passenger said give it gave it and and broke the front axle and i still need a new rim the one i had bent lol
January 7, 2005
i got a show truck and only 3 times have i ever ever made it through a swamp with out snapping or breaking somthing lol
January 8, 2005
the way i see it is if it can do it do it if it cant do it try it
November 2, 2005
Show vs Go.
Two years ago I was scouting a track heading to the Oro Fino mine near Oliver, British Columbia. I had headed up the mountain but the road ended and I turned back down. There were 4 or 5 mud holes on the flats at the bottom that I had come through with the GeoQwest Excursion.
On traversing the first muddy section, I met 2 guys in a Jeep coming towards me. They were out of their vehicle examining the mudhole and planning their strategy for getting through. Their Jeep was covered with mud, mainly because their oversized tires extended beyond the wheelwells.
I geared the Excursion down and slowly churned through the hole and emerged at the other side. It turned out they were the lead vehicle of 6 or 7 trucks from Vancouver on a 4x4 holiday. Nearly all the trucks had oversized tires and all kinds of aftermarket accessories attached. They had extra gas cans slung on the sides and roof racks full of equipment. All were covered with mud from rim to roof as they had charged through the first few mudholes.
I informed the group that the road led nowhere. So we all turned around.
I watched both in amusement and eco-horror as each truck slid, bobbed and blasted across the mud holes, fat tires throwing mud everywhere. A lower slung Ford Explorer had to be pulled out.
At each hole I waited to go through last. I picked my line, low gear, mid rpm and churned through with no spray, sliding or drama. A number of the other drivers came up to the Excursion at the end to try to figure out how it could get through with such little drama.
Easy…don't drive like a Chevy Silverado commercial. Less power is often a good thing both for the equipment and the environment. Skinny tires and 8,000 pound of truck cut down to the firm base of most mudholes and doesn't need flying turf to get through.
www.geoqwestexcursions.com
Geurilla Marketing at it's lowest!
December 9, 2006
I just got my 84 k10 and hardest core wheelin ive done was in my back yard when i parked after 5 days of rain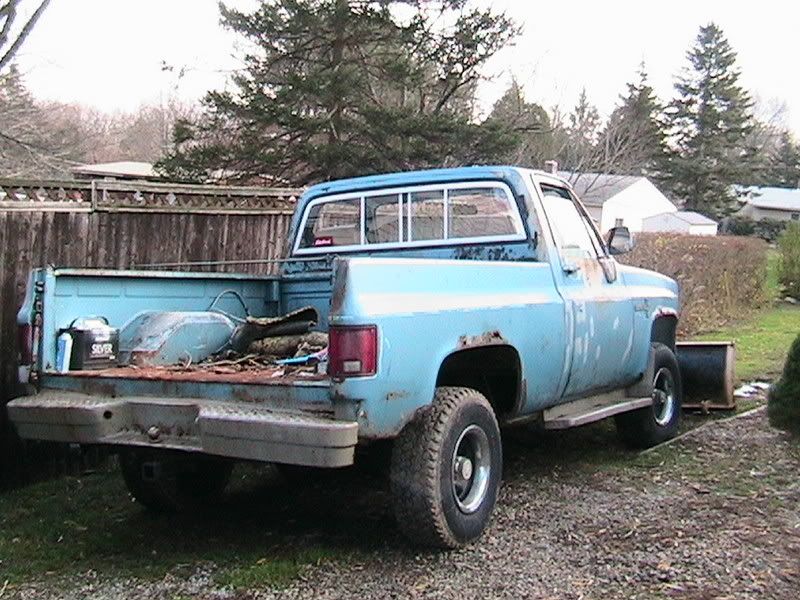 its a poor pic but notice the mud in front of the plow
Post Message
BECOME A MEMBER TODAY!
Join.